About our Client
Our Client, Sunglass.io developed a web based 3D model sharing platform for desktop and mobile with features such as real-time collaboration, version control management, review tool, security, 3D parts library, and custom branding etc. The platform has been acquired by Wikineering, a not-for-profit organization developing a knowledge sharing platform for engineers.
Domain :
CAD/Cloud/Mobile
Location: US
From Intention to Visualization
We are your Reliable Development Partner
Client Testimonial
"First of all let me say again, amazing work guys. I have been consistently impressed with your solutions, your speed at implementation and ability to improvise with our product and
schedules."
Robin Willis
Sunglass (ww.sunglass.io)
Business Challenge:
Sunglass.io was started by two bright MIT graduates with a vision of developing a web based 3D model sharing platform to enable real-time collaboration among different design teams operating from different geographical locations. Such a platform brings efficiency and productivity to the complete development process. Although they had a team to develop their core product, they trusted the capabilities of ProtoTech Solutions and approached us to develop a full-fledged  iOS viewer for CAD models with real-time collaboration capabilities and to develop CAD plug-ins for SolidWorks, Inventor, Rhino, and Maya to work on Cloud. The team was required to make use of REST API to communicate with Cloud backend and to provide complete file management facility on desktop through plug-ins.
Technologies incorporated:
In order to design iOS based 3D viewer and CAD exporter plugins, our team incorporated the following Technologies: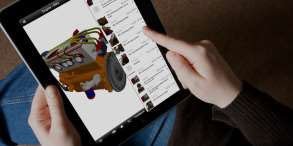 Advanced graphics library
REST API
SolidWorks, Inventor Rhino, Maya API
Google authentication
NSIS installers
Mix Panel Analytics
Key Benefits of ProtoTech::
The team at ProtoTech Solutions communicated with the clients' team based at different locations and time zones.
ProtoTech team efficiently handled product development with evolving specifications.
The team supported 1 million triangles of tessellated data on Mobile viewer.
The team created a common code architecture for all CAD plug-ins which resulted in a lesser development time, easier version upgrades, and overall maintenance.
With a steep learning curve in interpreting and integrating new technologies, the team completed the assigned work in time.